SOPHIA A. OMORO, MD, PhD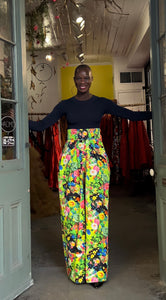 Dr. Sophia Omoro is a practicing Otolaryngologist-Head and Neck surgeon, a philanthropist, founder of the Blooming Lily foundation and the owner and designer of odAOMO, a Kenya-based fashion label.  She was
born and brought up in Kenya as one of eight siblings in a relatively under-privileged environment. Her father strictly pushed education as the only way out of poverty. Dr. Omoro was able to perform and thus
acquire a scholarship to springboard her journey out of Kenya and into North America. Here she completed her International Baccalaureate,
College, Medical school, Graduate school, and ultimately training as an otolaryngology surgeon. Dr. Omoro says she always knew from a young age
that she had a special calling in life, and this purpose was to be a three-pronged. Her experiences, hardships and focused determination
prepared her for what she now does. She continues to practice as afull-time surgeon.
In 2014 she set up the Blooming Lily Foundation to empower girls to fulfill their destiny and give back to their communities. The foundation hosts a few activities locally and sponsors an annual retreat in Kenya during which 25 underprivileged girls are mentored in this mission.
Her fashion label odAOMO was also established in 2014. This is a give back project to her country; realizing the amazing amount of talent for workmanship in her country, coupled with a dire need for employment, topped with her passion for fashion, she established the fashion brand. A
truly unique brand, odAOMO offers a curated collection of apparel, accessories, and jewelry with a timeless and cross-cultural aesthetic.
Each piece is handcrafted from eco-friendly materials in Kenya and produced in limited batches, creating an exclusive and organically nuanced line.
Where some philanthropic entities choose to focus on charity, odAOMO and Dr. Omoro empower through opportunity. odAOMO employs a small team
in Kenya with fair wages that have a profound economic impact on their respective villages. "I would like to bring to light this wealth in material and human resources and show the world that wonderful things
can come out of this continent and country. Wonderful, beautiful things, made with love, and by human hands."
Her original flagship showroom is in the French quarter, New Orleans. The second location opened in Nairobi, Kenya in December 2017.


Dr. Omoro's message is simple: "Live now and Live widely". She believes that although we have no control of the length of our time on earth, we can control the breadth of our experience. "Living now and widely" is an
obligation first to oneself to reach the destiny successfully, then secondly to touch and positively influence another person. We all should strive to live purposefully.